By the numbers:

July 5th, filled up at the Salem Costco ($2.799/gallon), the trip meter was at 300.8 miles. Filled again at the Medford Costco ($2.979/gallon): 229.6 miles. Stopped in Red Bluff for the night after about 12 hours of driving. Lunch was at the Salem Costco: $3 for a couple of Polish Sausages. Dinner was in Perko's Cafe in Red Bluff: $17.24 for both of us. We stayed at the Motel 6 in Red Bluff, $45.53 (internet reservation ahead of time).

July 6th, filled up at the Walnut Grove Chevron ($3.139/gallon): 342.8 miles. Breakfast was at the Flying J in Lodi: $22.57 total. Reached Asilomar after about 6 hours of driving. Our stay in Asilomar was prepaid, and we bought only a few trinkets and Oz stuff over the weekend.

July 7th we stayed at Asilomar.

July 8th we left Asilomar after lunch and headed to Santa Clara to visit Anna's new comic shop. We stopped at The Garlic Shoppe in Gilroy to get caffeine and steak sauce. We got to Anna's shop around 2pm and met the Sunday Lackey and stretched our legs a big. Then we headed to South San Francisco for the Winkie Dinner. We were extremely early. We also left first, and owe a fellow Winkie for our bill. I only had an appetizer, because the meals themselves were so huge. I wasn't able to finish the appetizer.

Ahem, moving on... after dinner we headed North on 101 to 80, then took 80 to 505. There was a $4 toll on the road. Grr. We stopped in Fairfield at the Chevron for fuel ($3.199/gallon): 353.9 miles. We made it just to I-5 at about 9pm, and stopped at the Best Western in Dunnigan for the night. $67. Very slow internet access, but it had internet access!

July 9th, the long day. Have to get home so Eric can go to work in the morning. Continental breakfast at the hotel, we left Dunnigan at 7:10 am. Went through Redding at 9:00 am. Reached Weed at 10:00 am. Stopped at the rest stop North of Weed. Hit the Oregon/California border at 10:50 am. Stopped at the Medford Chevron at 11:15 am (2.969/gallon): 317.3 miles. Reached Roseburg at 1 pm and stopped for lunch at Jack In The Box (ug, too much food). $16.38 total. Reached Portland at 4:20 pm, just in time for rush hour. Crossed the Washington/Oregon border at 4:45 pm thanks to the carpool lanes. Stopped at the Castle Rock Chevron (3.029/gallon) at 5:30 pm: 340.7 miles. One last rest stop at the Federal Way rest area at 7:00 pm, then we were home at 7:45 pm.

We imagined the perfect road trip car... a modified hybrid, capable of powering some extras as well as allowing for non-gasoline idling in the summer construction back-ups and various rush hours in various cities. It would have a built-in fridge with small freezer, AC, navigation computer, compass, external temp, trip meters, comfortable seats, plenty of room for luggage, sound system with MP3 capabilities, satellite radio, UV protected windows, cruise control, dashboard camera... well, we had a lot of time to talk while driving, so we came up with many many modifications for a perfect road trip car. Discussing a fantasy like that passes the time.

Speaking of time, that's the other thing we both wished we had on the trip. While it's nice that we can make it to Asilomar from Seattle in about 18 hours of driving, it would be nicer if we could take an extra day or two and be tourists along the way. And then go down to San Diego for the Comicon after the Oz con. And while we're wishing, we want a pony and world peace.


The Oz convention itself was great, with over 120 people attending, and some wonderful presentations. If I had one complaint about the presentations, it would be that Oz fans do tend to go on and on and on, and every single presentation went longer than they really should have. Seriously, if everyone had cut their speeches, tightened up their speaking a bit, the whole thing would've been elevated to fantastic from merely great. However, I can't blame anyone, since EVERY SINGLE PRESENTER did it. At least a few of them had interesting visuals to go with their speeches.
I would call the costume contest a big success. With such a big pool of talent to draw from, the costumes were bound to be fun. In addition to the usual Dorothys, Lions, Scarecrows, and what-nots, this year saw a great costume of Dorothy's Farmhouse:
The back of the house was in black and white... heh. The adults dressed up too. I was part of a group costume that featured characters from Ozma of Oz. I was part of the Army of Oz, with hubby-Eric as a subordinate I could boss around. I'm sure Eric will post more about that on the
Oz Blog
soon.
Asilomar itself was as beautiful as usual. Either Friday afternoon or Saturday morning I saw what appeared to be a very lively log or some sort of wildlife. Unfortunately, I didn't have my glasses on, so I wasn't sure. Saturday evening, during the program, a raccoon investigated the Farmhouse costume, which was left out all weekend for folks to enjoy. He left too quickly, or I might've gotten a picture of him. On our way back from the late night Saturday party, Eric and I spotted two deer. One was much smaller than the other, and I think we saw them again on Sunday. The only pictures I got were of the one who got confused when a car stopped in front of him, and eventually wandered off into the street.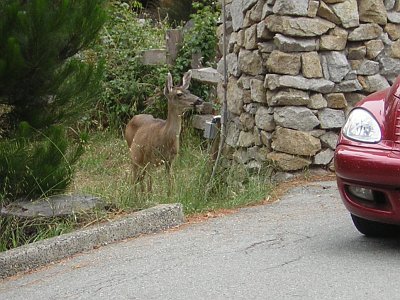 Random extra thoughts... This may be the first visit I've made to Asilomar where I didn't go down to the beach. I went down the boardwalk a way, but not all the way to the beach... I think I regained about 10 pounds from the travel and Asilomar food. I shall have to be very careful what I eat for the next couple of weeks... I got pretty adept at using my cellphone camera to get pictures... The Whimpy's in Woodland Washington is now an empty lot. They had good food there, so it's a bummer... Regarding rest stops: I've noticed that if the facilities are between the trucker area and the passenger car area, the womens restrooms are ALWAYS on the trucker side. It seems counter-intuitive... I-5 is about 308 miles long in Oregon, and takes about 6 hours to drive with the usual rest stops/fuel ups... It's about 177 miles from the Washington/Oregon border to our home, and takes about 3 hours to drive... Many 100 calorie packs melt in hot cars... California has added mileposts to the I-5 corridor in recent years, and the exits now have milepost numbers, but that doesn't help us when our map is so old it doesn't have those numbers on it... Always bring long pants to wear at Asilomar, as the weather there is more like Seattle than like most of the rest of California... L Frank Baum's great-grandson, Robert Baum (pictured earlier in this post with a Dorothy standee), apparently is the spitting image of his great-grandfather.