Anyone who grew up in the greater Seattle area has heard of the Puyallup Fair. It's The Fair. The event that everyone ought to go to at least once in life, preferably once each year. I usually don't get to go, it's not cheap. The last time I went, it was for the train layout in Hobby Hall, which was a LEGO layout. I didn't spend a lot of time outside of Hobby Hall that year. So when I got a chance to go to The Fair this year with a small group to see the Weird Al Yankovic concert, I jumped at the chance.

The concert was last night, and I spent a good portion of the day at The Fair with Eric, M, and my sister. We also met up with another sister and her guy at the event, crossing paths a couple of times.

The day actually started with hubby-Eric's dental appointment in the morning. The original plan was to go down to the dentist in Seattle, then just proceed on down to my sister's place. Unfortunately, we forgot the tickets (D'oh!) and had to go back after hitting the dentist. I did get a couple of camera phone shots while I was downtown, though, one of which has already shown up on this blog.

Once we got down to my sister's place (after returning home and getting the tickets), we played on her Wii for a bit. Eric is quite good at the baseball. Then it was down to Puyallup! Once we found parking, an adventure in and of itself, we entered the gates and promptly couldn't figure out what to do. Eric made it clear that he was too hungry to argue, so we went to find food. Not a difficult task. Then my sister and M split off to have their fun while Eric and I did our own thing.


Eric got a Krusty Pup, and I went and go myself a
Cow Chip Cookie
, the first of my culinary trifecta of "must eats" during The Fair. After wolfing down our foodstuffs, we went into Hobby Hall to see if we could find the train layout. One of the collections was Elmo, another was Eeyore, and there was also a few penguins: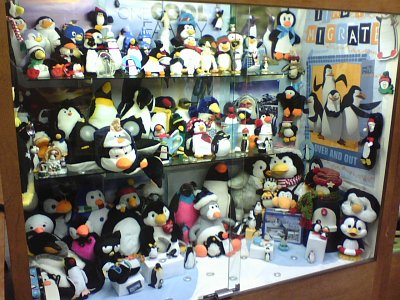 My whole penguin collection, pulled entirely together, would fill maybe one of those shelves. But then, that's not counting my penguin pillows and drapes. So who knows? I might be able to rival that collection.
I asked at the information booth about the train layout and was told that it was the number one most asked question of Hobby Hall this year. Neither group that does the layouts could come up with enough people to staff the layout for the full 17 days, so there was none this year. Much to the disappointment of many many many fairgoers. As I stood there chatting with the information lady, another fairgoer came up and asked about the train layout. It was clearly being missed.
Still, I got some good information from the information lady. Like the location of the best scones at The Fair (under the grandstand). So that's where Eric and I headed next.
Mmmmmmmm,
scones
. There's nothing quite like the Puyallup Fair scone, eaten hot right from the booth. I wanted to buy the mix, but I know I could never match the taste of those scones, which is part experience. I just know that I need to go back and get me another hot scone some other year.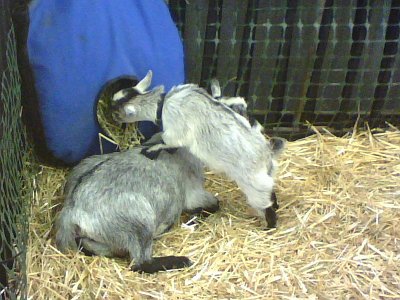 After having scones, we wandered around the grounds. We visited the Pygmy Goats and ooohed and aaaahed at them with other folks. We checked out the main barn, but didn't stay long.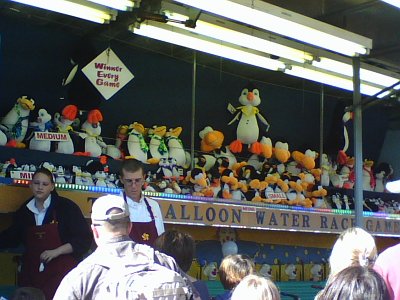 I found yet more penguins all over the carnival area, as it was a major portion of the prizes being given out. I looked in vain for an Aquaman prize. Lots of Spider-Man, and even a Superman in one booth, but no Aquaman.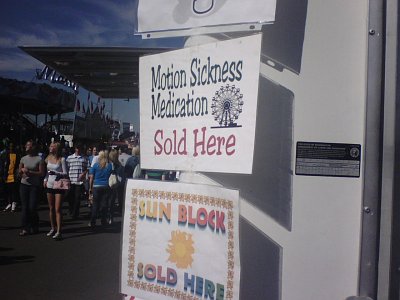 I found this sign to be fun.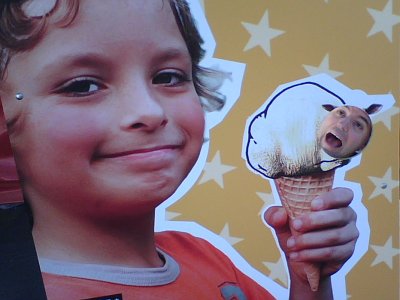 Eric was apparently in danger from a giant child which planned to eat him on a cone.
After wandering around in the heat for awhile, I entered a contest for a Wii and then decided I needed a good sit-down. We went to the Restaurant building and managed to meet up with Lisa and M, and we all shared an Elephant Ear. Then we went into the main expo building to watch all the live infomercials (and get free samples, was
my
goal). Eric and I got caught up in a demo for a steam cleaner, which we ended up buying. I may get my kitchen floor clean, yet.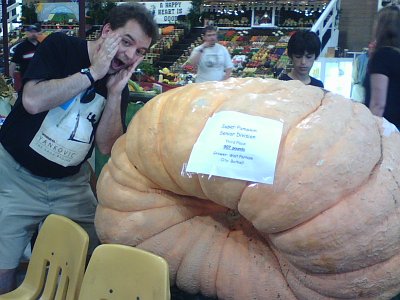 In the expo hall, we found this little pumpkin, grown by somebody in our hometown of Bothell. Eric posed with it.
As we took the steamer back to the car, we passed the Advil booth where they were giving out free samples. I ended up hitting the booth twice, and it got me through the rest of the evening. Thank you, Advil!
Eventually we went into the grandstands for the concert. We had tickets on the floor. The grandstands filled up quickly, and Al sang for a full house.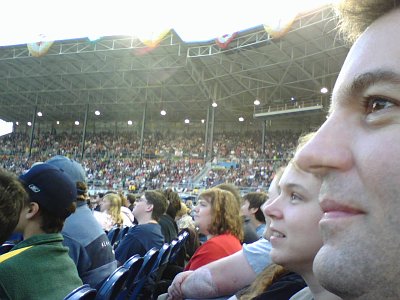 The concert was spectacular. Eric has promised a review here on this blog if he has the time. For myself: I sang along and shouted until my throat was raw. The concert ran about two hours. While Al didn't sing my favorite of his songs (Dare to be Stupid), it was intense and exciting as all his concerts tend to be.
We got home late, and crashed pretty good. I slept in a long time this morning.