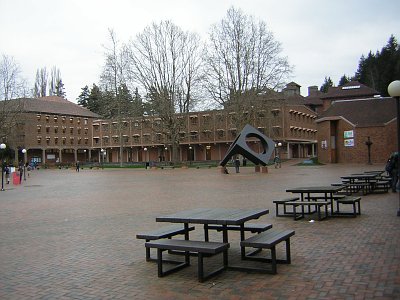 My mom, "twin" sister, and I went up to Bellingham today on a little road trip. We started on the campus of Western, hitting the visitor's center to get a parking pass. We visited the bookstore first, as the whole point of the trip was to get something there. I got a couple of birthday presents from my mom: a t-shirt and a shot glass (which I plan to use for my morning pills).
Then we wandered the campus with Torvald the troll, taking pictures of him with various campus landmarks. I hope to eventually get those up on his website, but here's a sneak peek:
Eventually we got tired and decided to go out to lunch. It was still early, so the place Lisa wanted to visit was still closed, as was Boomers. So we went to Fairhaven and got a meal at Win's. Mmmmm. Grilled ham & cheese sandwich, batter fried zucchini, and a kiwi malt. Still as good as when I was attending school at Western. If I miss anything from Western, it's visiting Fairhaven.
After the meal we headed back down to Seattle. We drove through a snow flurry, and realized that it was clear enough that we could actually see the flurry behind us, and another one to the side, as we continued to drive past it. The hills were patchwork quilts, covered in snow where the trees had been clearcut.
It was a good trip. Short, fun, and productive in some ways. A nice girls' day out.