On Friday hubby-Eric and I took a little road trip out to Eastern Washington. I can't really tell you much about that, except the weather was gorgeous and I got carsick. Besides getting carsick, I really enjoyed the trip.

Bright and early Saturday morning, Eric and I went down to visit my evil twin, and together we all went to the Race For the Cure. We met a friend or two down there, and walked the viaduct along with thousands of other people. Evil twin Lisa took a picture of hubby and I while we walked: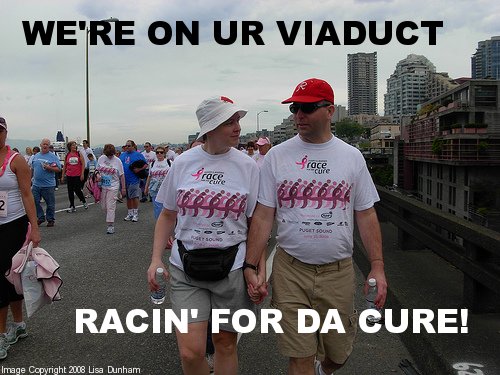 After the walk, our group, now five in number, went back to my parents' house. We played on Lisa's Wii Fit, were fed a wonderful lunch by my mother (THANKS MOM!) and ran some errands and such. We also made sure we had... um... the latest Doctor Who.
After playing around on the Fit (which
I want even more
now, if that's possible), we all piled into the car and drove down to KBTC where we volunteered for the Doctor Who pledge drive.
Hubby-Eric was "talent" at the pledge drive, as he's been before, but this time he got to anchor the pledge breaks with William. Here's a pic of him once he'd been gussied up a bit by a fellow fan:
Both Lisa and I did our usual behind the scenes work. I monitored the "green room" and made sure nobody walked off with a computer or somebody's bag. Lisa helped tally the totals on the breaks. Before the drive started, we all sat down and watched "Turn Left" (the newest Doctor Who) as a big ol' group of fans.
While we goofed around between breaks, Lisa took some pictures of me, including this one which I altered slightly from the one that appears in
the photostream
.
You can see a lot more pictures, including some fairly embarrassing ones, over in that Flickr stream, by the way.
Some idle final thoughts... Friday's trip could very well change our lives, and in some ways already has... I loved playing on the Wii Fit, especially once it told me my Wii age is 28 instead of 40-something like last time... One of our group made a Mii named "Killer" and the Wii said her Wii age was 61, Ouch... Mmmmmm, sloppy joes for lunch!... The weather for the Race for the Cure was perfect... I ate too much over the weekend and need to be really good the rest of the month to stay under my weight limit... Killer was the only one of the five of us who had trouble walking the Race for the Cure route... Elmo and Big Bird destroyed my little remaining innocence... Watching new Doctor Who in a big group was both fun and annoying... I really like the Wii Fit step aerobics, but the jogging was also great... While I am Lisa's Evil Twin, she's apparently my Evil Twin as well. I'm not sure either of us is the good twin... Once again, many thanks to the people who donated for Race For the Cure! Our little group raised a decent amount of money... Regardless of what happens, I hope to do the
Puget Sound Race for the Cure
again next year... If you didn't get a chance to donate on Saturday,
KBTC is still accepting pledges
. I recommend the TARDIS mobile phone charm, it was cool (even if it doesn't work with my phone)...
And lastly, my Evil Twin will be trying to ride her bike 150 miles for charity thie September. I'm going to try to post a reminder about it every week or two until the date. If you want to help Lisa in the MS 150 then
donate here
. She's trying to get $500 in donations so she can get a jersey, but needs at least $250 in donations to be allowed to ride.