Well, I tried to take a picture, but I couldn't get a good one of the three items out so far. But you can see them clearly on the back of the Calendar box itself: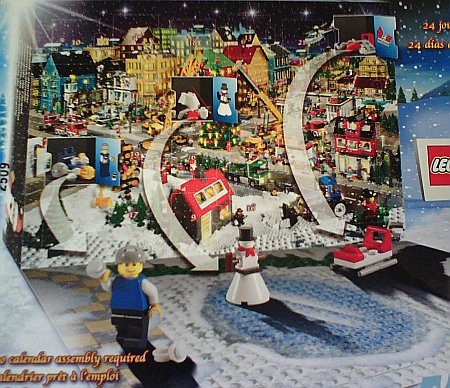 The third item is a sled!
The odd thing about the picture on the box is that the advent doors open the opposite direction than the real thing. But otherwise it's a good quick way for me to show you what days 1 through 3 look like.
I'll try to take better pictures as the calendar progresses.
Now, I told you I got this one last-minute? I went to eBay out of curiosity and found this sucker is selling for over $60. Apparently they
did
sell out, and I was very very lucky to get the one I got. I also
notice
they had a
pirate themed one
this year, but I didn't get it (obviously, it wasn't even available in the States) and it also sold out. ARRR! I need to plan ahead for next year!