The Golden Age cookies were run past my panel of experts (the boys next door) who declared them to be "yummy" and "good" and "will you make more?" So I think that recipe will stay in my book. But, as I'd given away much of those cookies, I needed to make more cookies to keep hubby-Eric and I happy (we generally each have cookies with lunch). So I pulled out the recipe for peanut butter cookies and gave it a go.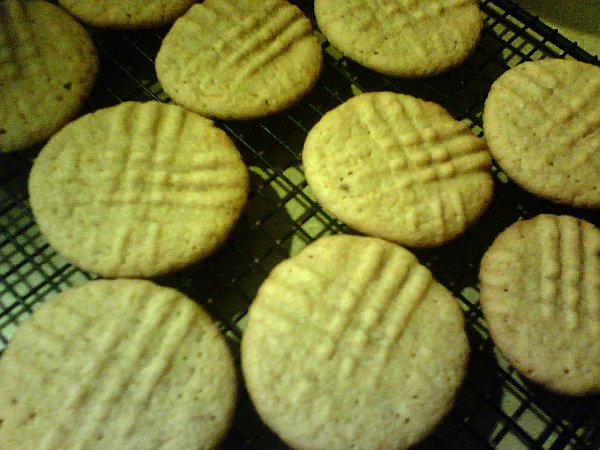 I used
the Classic Peanut Butter Cookies recipe
over at Baking Bites, and after I got my first pan in the oven I remembered how my mom used to make these and resorted to that method instead. The dough was the same, but the fork trick is to roll the cookie in sugar before dropping on the pan and then the fork won't stick. The water will work, but I think I prefer the sugar-rolled cookies by a smidgen.
So, here's the recipe in case the link is down. I plan to run these cookies by my tasting committee one of these days, but maybe I'll keep the first batch for just us.
Classic Peanut Butter Cookies
1 1/4 cups all purpose flour
1/2 teaspoon baking soda
1/2 teaspoon salt
1/2 cup butter, slightly softened*
1/2 cup brown sugar
1/2 cup white sugar
1 egg
1 teaspoon vanilla extract
1/2 cup peanut butter (smooth or crunchy)*
Preheat oven to 350F. Line your baking sheets with parchment paper.
Sift together flour, baking soda and salt.
In a large bowl, cream together butter and sugars.
Beat in egg.
Add vanilla and peanut butter and beat well.
Add in dry ingredients and beat on low speed until combined.
Roll rounded spoonfuls of dough in sugar and mark grids on the top of the cookie with a fork. (Alternately, put ball of dough on pan and mark with a fork dipped in either sugar or water to keep it from sticking to the dough.)
Bake for 11-12 minutes, until just beginning to brown on the edges.
Cool on wire rack. Makes between three and four dozen depending on the size of your dough balls (snerk, my batch made 45 cookies exactly).
*The cookie will be brittle/crumbly if you use processed (regular) peanut butter, so add an extra tablespoon of butter unless you are using a natural peanut butter.
---
And, just in case you didn't want to transcribe the cookie recipe from
my Golden Age Cookies post
:
Golden Age Cookies
1/2 cup butter, or other shortening
3/4 cup white sugar
1 egg
1 1/3 cups flour
1/2 teaspoon soda
1/2 teaspoon salt
1/2 teaspoon vanilla
2 Curtiss 5c Baby Ruth Bars, cut in small pieces
Cream butter and sugar until smooth.
Beat in egg.
Stir in other ingredients.
Chill and drop by half teaspoonful on greased cookie sheet.
Bake in a moderately hot oven (375 F) for 10-12 minutes.
Makes 75 cookies.