TV this week:
Doctor Who: "The Snowmen" - Overall, a pretty incredible story. Very well done, but I felt it exposed the main weakness I have with the Matt Smith Doctor. Even when he's depressed and trying to be out of it, I just don't buy that he's really all that distressed. He goes through the motions well enough, but I never see him as being shattered by Amy and Rory's fate. Which is kind of key to him hanging out in Victorian London trying to do nothing for who knows how long. Clara now... Clara is really interesting, and just the thing to bring any of the Doctors out of a funk. They/He never could resist a mystery, and she's really freaking mysterious. I fully expected her to survive and join the Doctor at the end of the story and therefore end up as the dalek girl someday in the future. The actual result was really a surprise. And then there was the villain! There are a ton of ways to explain it and fit it in, and if old school fans can't quite figure it out, there's always the Time War. But early in the story I turned to Eric and said, "Intelligence? As in 'Great' Intelligence?" and waited to see if I was right. I guess these snowmen weren't abominable enough for it. Heh. So, I'm looking forward to the future, and happy to have seen this one on Christmas. When's the next episode?
---
This week's movie was
The Muppets
. Ok, I actually saw it some time ago, but haven't written about it yet. And I just watched it again last night. Short review: I loved it. I adored it. I wanted more. Longer review: I thought it was definitely the story of Walter, not the story of the Muppets. That turned out to be a good choice, because without the drama of Walter and Gary, the movie would have been a rehash of the original movie and may not have worked as well. The song, "Am I a Man or a Muppet" was an incredible moment in the movie, but I loved the earlier Kermit song "Pictures in My Head" even more. Walter's human version was a kick. The absolute best moment of the film for me was when I realized what song the chickens were performing to, a rather risque Cee-lo song with the sanitized title of "Forget You". The more they performed, the harder I laughed. There was also the barbershop quartet doing Nirvana, which was just bizarre. And Jack Black had some very good moments. I also particularly liked Rowlf's bit when the group is getting back together. I wouldn't call this the best Muppet movie ever, but it is certainly a great little movie and a lot of fun.
---

Here are reviews of the
DCBS
comic books that I've gotten around to reading and reviewing, sorted by the original shipping date:
Oct 17th
Justice League #13 - I'm pretty confused by this league. At least Aquaman looks pretty.
Green Lantern: New Guardians #13 - Unleash the rage? Ug.
Young Justice #21 - I want Aqualad back.
Saucer Country #8 - That was quite a cliffhanger page. I'm still a bit confused by a couple of the major players. Not a book for a casual reader, really.
Peanuts V2 #3 - Frieda vs Charlie Brown? Ok. Not really sure about that one.
Oct 24th
Fables #122 - There's an interesting little twist in the Wolf's life. I'm looking forward to seeing how that works out.
Star Trek TNG/Doctor Who: Assimilation #6 - Borg are brutal and seeing them work that way is frightening. Seeing when the Doctor travels to is even more frightening.
Oct 31st
Tick #101: Tick Meets Madman - That was confusing.
Aquaman #13 - I really like this version of Mera. She's got her head on straight.
Batman Beyond Unlimited #9 - Three stories, each independent. If I don't keep reminding myself, I start to get confused. Like the Justice League cliffhanger, though. Gone, gone the form of man...
Superman Family Adventures #6 - Best moment in the whole book was when Ma Kent slapped Grundy on the hand, dragged him by the ear and made him clean up the barn. Aw yeah, Ma Kent!
Doctor Who V3 #2 - So what was the hypothetical man and will we see it/him again? That final image suggests we might. And did the Doctor just send those two to Torchwood?
The Legend of Oz: The Wicked West Ongoing #1 - Huh. Nice recap of the mini. It's easy enough to figure out what has happened since the end of the mini, except maybe why Dorothy isn't back already. Interesting.
Steed and Mrs Peel Ongoing #2 - I still think it's some kind of delusion. Especially considering the way the brainwashing is going.
Nov 7th
Love and Capes: What to Expect #2 - Love the cover. This book has a lot of great little jokes and such. It's like watching a particularly good sitcom.
Love and Capes: What to Expect #3 - Now I want Oreo Cheesecake. Ahem, great start to this one with the Doctor Who reference. I'm seeing more and more Doctor Who references now. Again, great book.
Earth 2 #6 - Well, that's the first arc done. Now what?
World's Finest #6 - I think it would help if I knew who this Robin is. Still, amusing overall.
Green Lantern #14 - I'm actually beginning to like Simon despite the overwhelming cliches surrounding him.
Smallville Season 11 #7 - Wow I don't like this Batman. And there were just a few too many characters running around during that chase sequence.
Road to Oz #3 - It has been so long since I read this book that I really don't remember much of this at all. I'm actually really interested to see what happens next.
Oz/Wonderland Chronicles: Prelude to Evil #2 - So totally confused... someday, when this series of series is all done, I'm going to sit down and figure out what it was about.
Nov 14th
Green Lantern Corps #14 - Now that the Guardians are definitely the worst villians in the entire DCU, who is going to take 'em down?
Green Lantern: The Animated Series #8 - It took me entirely too long to notice the references. Fun to see Hal running around with wings on.
Saucer Country #9 - An assassination attempt? Or was it something else. I don't know what to think of this book sometimes.
Star Trek TNG/Doctor Who: Assimilation #7 - Very annoying that time can't be changed, right?
Hoax Hunters #5 - That was an interesting digression from the other storyline. Or was it really a digression? I enjoyed it. I think I'm enjoying this book.
Spongebob Comics #14 - Eh, it was ok.
Nov 21st
Castle Waiting #18 - NOOOOO! I WANT MORE!!!!!! I am so going to miss this book. I hope to see some other work by Medley in the future, hopefully that Oz project.
Justice League #14 - I really like that splash page of Aquaman holding Cheetah underwater surrounded by piranha. That says a lot about this version of Aquaman. Heh.
Green Lantern: New Guardians #14 - I sure hope there's a point to this storyline.
Young Justice #22 - Needs more Aqualad.
Fables #123 - That finished out about how I expected it to, except for the little revelation at the end. Good stuff.
The Legend of Oz: The Wicked West Ongoing #2 - Still no Dorothy, but then the second book in the Oz series didn't have Dorothy either, so I suspect we'll get her back in due course.
Steed and Mrs Peel Ongoing #3 - Ah yes, about what I'd hoped to see. Just remember, while fantastic things happen, this isn't a fantasy book.
---
My library book this week was
Fangboy
by Jeff Strand. I have my doubts that this book will find its audience. It is at times very simplistic in a "Series of Unfortunate Events" style, but other times it's clearly poking nasty and sarcastic fun at the conventions of children's literature. The book is a fun little romp, though, if you don't mind a bit of turning itself inside-out.
---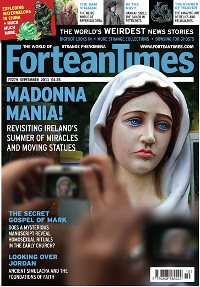 Fortean Times
#279 (October 2011). I'm not really keen on the cover, which shows someone photographing a Madonna statue. I'm not sure why I don't like it, I think the statue just bothers me for some reason. The cover story, while interesting, is very limited and doesn't seem to bring a lot to the argument of why people see visions of Mary.
Strangedays has the usual round up, some interesting bits but nothing jumped out. More Fortean Follow-ups this month, always good to see. Science however, that was intriguing! Is there an "average person"? Good stuff. Archaeology was ok, Classical Corner is about Lucian and has its moments. Ghostwatch is about dowsing rods, which I consider to be ridiculous. Alien Zoo has a couple of animals, including a dire wolf. UFO files had a freaky story of Bermuda Triangle woes. Blasts from the Past is about a slasher in Philadephia in 1905.
There's a good article, "Looking over Jordan", that examines some passages of the Bible with way more context than we usually get including pictures of some of the places mentioned. I love this sort of thing. There's also an article about the secret gospel of Mark, which is the epitome of Fortean strangeness. Nicely thought out conclusion to that one as well.
I added a couple of books to my wish list from the reviews, and the letters were neat as usual. Now, if I could only catch up on my reviewing of this magazine. I'm more than a year behind, although I've read up to the current issue.
---