Michael Sensei, as mentioned in the last entry, sent me a nifty "care package" from Japan. I believe that had to do with my entry about the Melon Pocky I found. Well, in addition to toys, he sent some Pocky:


I was expecting maybe a box, two... three at the most. He sent a dozen boxes! Now, I don't know what ALL the flavors are... but starting on the top row, left to right: decorated pocky, dark chocolate, strawberry giant pocky, five fruits (goka), mousse (mango?), and mousse (green tea). Bottom row, left to right: milk & honey (two boxes), Hello Kitty (strawberry?), coconut, Tahitian vanilla, and non-Pocky Kisyu Ume (sour plum).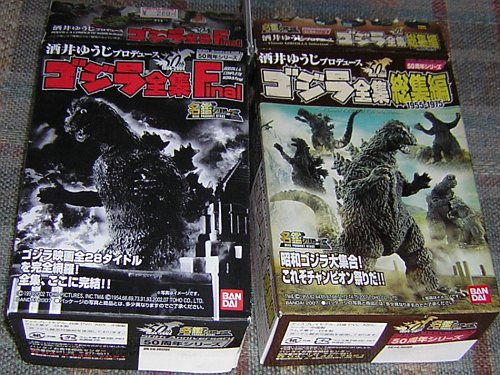 In addition to boxes of Pocky and a few loose toys, there were nine of these boxes, resealed. At first I really thought that they had Godzilla toys in them, but when I opened them to check, I found each box had a bunch of different items! No Godzilla to be found.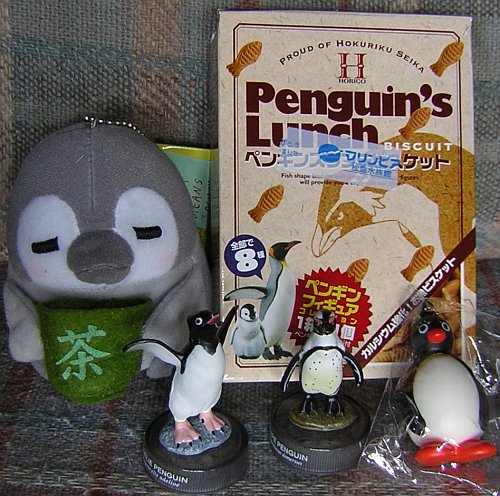 I don't know if Michael Sensei is aware that collect penguins. My penguin collection is a bit strange and goofy, and I can't imagine any better additions than these fine fellows!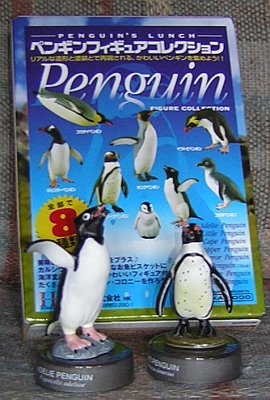 On the back of the Penguin's Lunch box is a list of the penguins available in the set... I haven't tried the actual crackers yet, but if they are excellent I may end up trying to order more through one of the local import shops.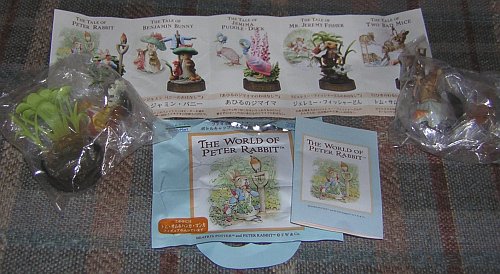 More toys! These are based on works by Beatrix Potter.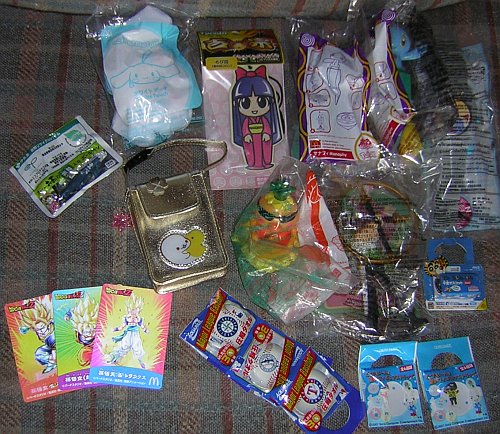 Most of these toys are destined to be given out as reading prizes at the local library, if the teen librarian gets back to me and says that she wants them. For the record, Michael Sensei, I was born in the year of the Pig... so I'm an Aquarius/Capricorn Pig. Hmmm. And I married an Aquarius Horse. That sounds kind of kinky. By the way, I
will
be keeping the Seattle Mariners compressed towel.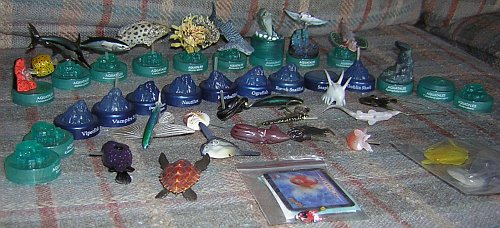 Fish! As you can see, I'm going to have to figured out which fish belongs to which stand. Michael Sensei, being a good teacher, suggested I look them up myself. Heh. These fine fishies may show up on the Aquaman page in some form or another.
In return, Michael has asked for some cheap comics to give to his students. I need to hunt some down soon and make up a return care package. I also need to sample those Pocky! And Penguin's Lunch! And Sour Plum non-Pocky!
If you haven't read Michael Sensei's blog recently, you MUST check out his entry on
Cucumber Pepsi
. I like his idea for Watermelon Pepsi. I might even be willing to have pop again to try it, if it came out.