I have been making paper frogs since I was first taught how in first grade when I was about 6 years old. I have made them for quite a few people, and have even watched with disturbed tolerance as a wedding guest once "dissected" one of my frogs that was being used as a table decoration.

But my frogs aren't proper origami, or at least I didn't think they were. Instead of a square of paper, they use a rectangle made of two squares. And whenever I made a frog, people would ask if I could make a crane. No, I didn't know how. So one day last year I went to YouTube and watched about a dozen videos and played with paper until I could make my very own paper cranes in the traditional style. And I've made a bunch since then, although I've probably lost count (edit: 187 as of this morning*).

After awhile I settled into a crane-making routine. Every morning I have a calcium chew with my breakfast, and every morning I take the wrapper and make it into a crane. So I have one for every day over the last however many days. Rather than dump them in a pile, I had them lined up nicely on a table in front of the window.


Well, the table began to run out of room, and it seemed silly to leave them all there, so I called my Mom and asked for some thread and needles, since it seemed rather pointless to buy those supplies when I know she has tons of extras hanging around. She promptly supplied them, and I promptly did nothing with them for a few weeks. Until a couple of days ago.
First I gathered up 100 cranes into a pile: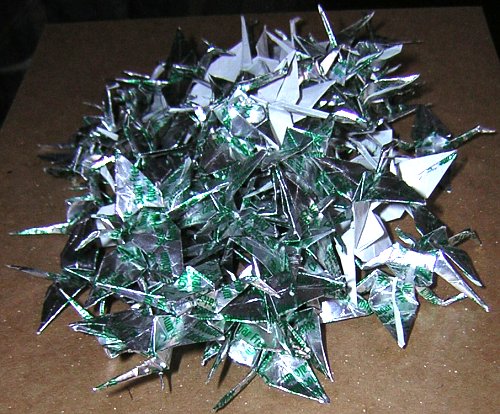 Next I used my long out-of-practice skills to thread the needle and start to put the cranes on a line of thread. It took me a few tries with the first crane to figure out how to get it to sit evenly on the thread. I also wasn't sure whether to put knots or anything between each crane. I decided to just string them on one after another and see what happened.
Every fifth crane I make is white, the inside of the wrapper showing instead of the outside. I may reverse that for a future chain of cranes. For this chain, I started with two normal cranes, put a white one on, then four regular followed by a white and so on.
The threading was easy after a while, although I did manage to poke myself *sigh*. I got 100 cranes on the thread, then tied off the top and made a big old loop to hang it with. Then I cut the thread off the spindle at the bottom, rethreaded the needle, and sewed the bottom crane into place so it wouldn't move around, knotting it as carefully as I could manage when I was done. I would have preferred a bead or something to put at the bottom, but I must confess a strange satisfaction to sewing through a crane to make it stay put.
Here's the result, hanging from the hinge of a closet door:
That's the first 100 cranes. I've got another 19 or so on my next string already, headed for 1000 one day at a time...
*Edit: 187 cranes, but I'm only stringing up ones made with the calcium chew wrappers, so my total is 119 of those. Many of the others got given away, or are a completely different size. I'm keeping track in my Daily Writing.