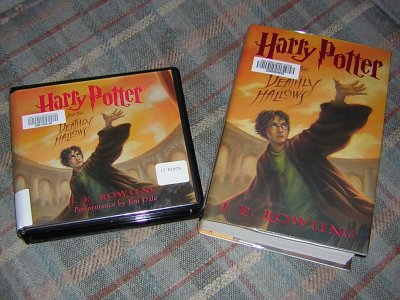 I have my choice, either the audio CDs or the book... well, actually, I started on the book fairly quickly and I'm already ... a couple chapters in... yeah. I was waiting at the library doors when they opened this morning, and was first in line for Harry. There were big signs all over telling people to go to the circulation desk for reserved Harry Potter, not the self-help hold shelves.
I've been reading since then with a short break to help my Mom buy a camera (since my little sister was insensitive enough to go on vacation and take her own camera with her, so my Mom couldn't borrow it!). I think we got Mom a good one, right in line with my sister's and my own camera, so she already knows how to use it.
Anyway, I needed a quick break, so I thought I'd post a pic of Harry from the library, like I did
when the last book came out
. I'll note that I
suffered
for my reading last time, so I'm taking more breaks this time.