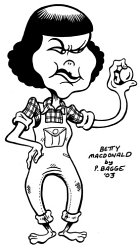 The Seattle Times looks at
Betty MacDonald
, a local writer that I adore. She would have been 100 on March 26th. They've put up
excerpts from her books
, and a couple of
letter from fans
. As you might recall, I reread all of Betty MacDonald's
autobiographical
books a
few years ago
and made
a little bibliography
of her works.
Sticking with Seattle... Vintage Seattle lets us know how to
survive the atom bomb in Seattle
.
The most respected Seattle Mariner, Edgar Martinez,
denies the charges of drug use
in the clubhouse.
The Seattle Times also tells about a
Boot Camp to fight Chronic Pain
. I do wonder if this would help me. The point is probably moot, as I haven't got insurance nor money to pay for it.
And, not Seattle-related, but for the in-laws:
Easter Puggy
.