I'm naturally very interested in Michael "Aquaman" Phelps seventh gold medal (in the 100m Butterfly), in which he just barely beat out Milorad Cavic at the wall. Cavic's only mistake was gliding into the wall instead of taking a final stroke like Phelps. It was literally too close for human eyes to see the difference in real time. Even in super slow motion, it's hard to tell. Only when you take into account that Cavic's head comes up at the end while Phelps is still driving hard to the wall does the finish make sense.

As for Cavic, he's pleased with the result. His blog states as much:
On winning a SILVER medal: I am completely happy, and still in complete disbelief that I was able to achieve this feat! I'm not joking... It's a tough loss, but I'm on cloud nine. I congratulated Phelps and his coach Bob Bowman. I'm just glad the race was fun to watch for everyone. It was a pleasure for me, really.

Filing a Protest: Yes, as you all saw, I almost won the Gold, and if you ask me, the clock does not lie. I had nothing to do with this filing, and neither did my coach Mike Bottom. This is just another attack on my coach who has done never wronged anyone in swimming, except coach foreign athletes (non-Americans) to Olympic medals. You all have to understand that any coach would have done this for their swimmer if there were any possibility of error, but I'm sorry to disappoint, it was my Olympic committee and swimming staff who did the filing. We're not "sour grapes" and we're not "pissed"... If you ask me, it should be accepted and we should move on. I've accepted defeat, and there's nothing wrong with losing to the greatest swimmer there has ever been.
Frankly, Cavic is one classy guy. His blog proves it.
I've watched two YouTube videos that show the finish from different angles in super slo-mo (I would link to them, but they are being pulled as quickly as the IOC can find them), but I wasn't convinced about Phelps' victory until I saw a series of still photographs at
Sports Illustrated
in which you can see Phelps
right hand touching
just
before Cavic
. Again, so close... 1/100th of a second. If it were my choice, both men would get gold medals. There's a good reason I'm not in charge of the Olympics.
I grew up a fan of Mark Spitz for his seven medals in my favorite events of the Olympics. Well,
Mark Spitz weighs in
on Phelps' seventh Gold, and he expresses relief. He
should
have been invited to the Games to see Phelps, but wasn't. I blame US Olympic officials for the oversight.
I just watched Phelps and his team win Phelps' eighth Gold medal of the Games. VERY impressive, especially Jason Lezak's anchor swim. Phelps wasn't so bad himself, giving the team the lead in the third leg. He certainly earned those medals.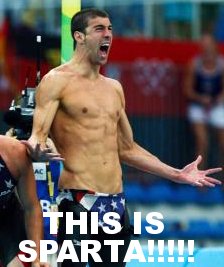 One last thought. I curse the cheaters who make me worry and wonder if we'll someday become disappointed in Phelps or his team. I believe they are clean, but there is that tiny doubt and worry. It's nearly impossible to have heroes in the sports world anymore because of all the people who cheat. So curse the cheaters for making me doubt. The sporting world has been tainted by drug-addled scumbags. And I hate feeling that way.