TV this week:
Iron Chef America: "Symon vs Cosentino" - No. Absolutely not. No way. I wouldn't judge this one. No matter what you paid me. Sorry. ... However, it was fun to see Igor and the Monster joining in the fun at the beginning.
Numb3rs: "Jack of All Trades" - This one didn't have the menace, but it had everything else, including some decent math. I liked this one a lot.
Diners, Drive-Ins, and Dives: "What's For Breakfast" - Ok, I'd try that scrapple. But the one place I really want to go to is the pancake place. I want to try the pumpkin ones. I could easily gain back 100 pounds there.
Dinner: Impossible: "The Pork Man's Nightmare" - Wait, they didn't tell the cowboys that they were getting a vegetarian meal? Ooooh. Fun that the "pulled-pork was excellent" for that one guy. I would've loved to try those dishes.
Heroes: "Eris Quod Sum" - If they cut out half the plotlines, this show might just be tolerable. Then they couldn't weave them together, true, but the show would improve with less jumping from plotline to plotline.
Ghost Hunters: "U.S.S. Hornet" - I have been on an aircraft carrier in dock, and I've been on a military ship at sea as well, and I cannot imagine being able to separate the sounds the ship normally makes from anything "paranormal". That said, the investigators did their best. But, as usual, it would take several weeks of cameras running full time along with lots of background work to establish baselines before I would ever declare a ghost hunt to be truly scientific. Ghost Hunters is scratching the surface of science because their investigations don't have enough time to be truly in-depth. As long as you accept that, and take the show as experiments in human nature more than in supernature, it's a fun show. And, as you can see from my reviews of it, I'm a faithful viewer.
Sarah Jane Adventures: "Secrets of the Stars" - The beginning was very interesting, with the astrologer admitting he was a fraud only to be... well, that's telling. I figured out the solution early on, as it was definitely telegraphed by the comments the characters made. I liked the cliffhanger, "Nothing is happening!" All pretty fun in the end.
---
No comics this week, but I gave out quite a few for Hallowe'en!
---
My library book this week was
The Hallowed Hunt
by Lois McMaster Bujold. This book shares nothing with the
Curse of Chalion
and
Paladin of Souls
except the universe it's set in. The theology in this one is slightly different, as it is set in an earlier time in a completely different part of the world. As usual, the characters are compelling and the story rocks along. I was caught up in this one enough that I ended up reading it in basically one very long sitting. I think that's one of my highest recommendations, finding a book that I cannot put down. Oddly enough, I still think it's not as good as the best of the Vorkosigan books, but it's certainly a very strong book and stands just fine on its own without the first two books of the series.
---
Agatha Christie this week was
Partners in Crime
. I've finally managed to get more Christie books through interlibrary loan, and I'll probably end up having to get a lot more through IL thanks to my new library system's limited Christie collection. If this town had a bookstore, I'd just go buy used copies of the books I want to read next. Anyway, back to the book in question... this was published in 1929 and is a linked collection of Tommy and Tuppence stories. We last saw Tommy and Tuppence in
The Secret Adversary
, where they became a couple and had a nice adventure. This one gives them more adventure after several boring years of rest. As with most of Christie's work, I was very close to solving many of the mysteries, but this one was new in that I actually managed to solve a couple before the reveals. Still, it's T&T, not Poirot. I'll be proud if I manage to solve a Poirot mystery before the reveal.
---
Another book I read this week was
Beards of our Forefathers
by David Malki. This is a collection of strips from the
Wondermark
webcomic. I first learned about Wondermark in 2005, when Malki sent me a copy of the Annotated Wondermark, which I enjoyed quite a bit. I've been faithfully following the strip since, so most of the material in this collection was familiar to me. But not all of it! There is a significant amount of supplemental material in the back of the book, including a text story (or part of one, at least). As for the book itself... Malki's jokes are usually a bit on the odd side. Sometimes he sinks into pure low humor, but other times he stretches into Terry Gilliam Monty Python territory. Which, come to think of it was often pretty low humor as well. Hmmm. In any case, don't let the Victorian clip-art style put you off, give the strip a try. And then buy his books if you like it. They tend to have a little more fun in them. And besides, what other book can you do this with?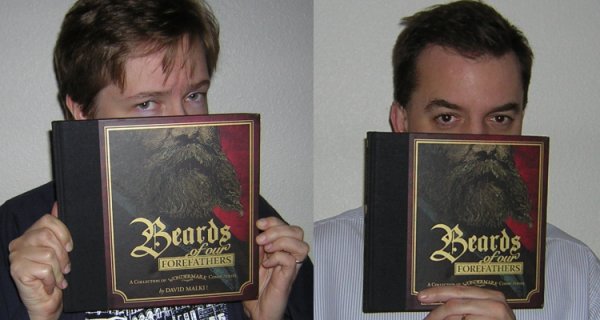 ---