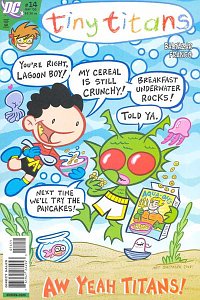 I love
this sequence
from Tiny Titans so much, Art drew Inky into
my sketch
of Aqua-Ohs.
Why yes, he is OUTRAGEOUS!
He'll call this one the adventure of the reviewer who got it right.
Classic letters to the Editor of the Silver Age
.
The New Robin Revealed
.
James Kolchaka
invents videogame in nightmare
, then fan
makes the game in real life
.
I only just heard about
The Periscope Coup
. It takes some effort to read, but it's really funny if you know the folks involved.
2009 Eisner Award Nominees
. Yay everyone!
Mythbusters become window busters
.
Top Ten Confusing Place Names
.
Want
.
Want to know what's on the other side of the planet from where you are? Check out the
Antipodes Map
.
LOLCat Theology
.