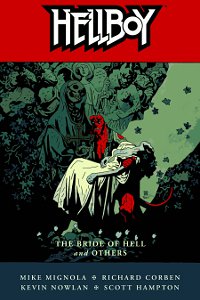 Hellboy Volume 11: The Bride of Hell and Others
by Mike Mignola and various others.
Release date: October 12, 2011,
pre-order now
! I got an advance copy via
NetGalley
.
This is a collection of previously published material. It includes "Hellboy in Mexico," "Hellboy: Double Feature of Evil," "Hellboy: The Bride of Hell," "Hellboy: The Sleeping and the Dead," "Hellboy: The Whittier Legacy," and "Hellboy: Buster Oakley Gets His Wish". All were written by Mike Mignola, with a variety of artists on the visual chores. Each story is prefaced with an introduction by Mignola that tells where he got the idea for the story and when it was originally published.
If you aren't familiar with Hellboy, don't worry. It isn't really hard to figure out. Each story is capable of standing on its own or contributing to a collection like this. All you really need to know is that, despite his appearance, Hellboy is a good guy. And, again, it's made obvious early on.
The stories are nicely varied in this collection, giving a decent overview of the Hellboy universe. The Mexico story was both funny and tragic. The Double Feature had a terribly freaky framing sequence with a couple of nice little stories. The Bride story was the usual misdirection and a character that was actually fairly sympathetic, although evil. The Sleeping story added a LOT to the Hellboy world, and if you know much about that world, you'll understand what I mean. The Whittier story was probably the weakest of the lot, with a bunch of frenzied activity in a handful of pages that wasn't as easy to follow as the other tales. Buster Oakley was just plain hilarious. My favorite story was probably the first, as the mix of sadness and fun just worked for me.
I was introduced to Hellboy many years ago by my hairdresser, and I started to love the character almost immediately. Readers unfamiliar with him may find him hard to like, but I promise you won't have trouble understanding the stories. If you already enjoy Hellboy, this is a must get. If you haven't met him yet, it's not a terrible place to start. Definitely recommended.