3:39 pm - I just saw a dinosaur walk across the street in front of our house. Not sure if it was a school costume worn home, or someone starting T-o-Ting early. In any case, they didn't come here.

3:51 pm - Eric is back home with the pizza. I've put out some of the candy into bowls. I'm waiting for the paperboy to deliver the paper.

4:00 pm - Neighbors across the street are doing some REALLY last-minute decorating. Caution tape is going up all over their yard. Unless they are undercover police actually investigating a crime, which I doubt, since one of them is dressed like a princess.

4:05 pm - Halloween 2013 Crowds, Halloween 2014 Crowds.

4:07 pm - Paperboy delivered the paper and got two pieces of candy for his troubles.

4:40 pm - First group, across the street. Turned and went a different way. May not come back here. Hrm.

4:58 pm - First group, three kids. Very polite. The Flash, a unicorn and a princess.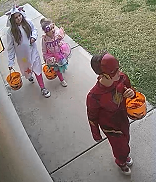 5:02 pm - Second group, three kids. (6)
5:12 pm - A lone Spider-Man with his dad. (7)
5:20 pm - Start of a little spurt of people. Not sure how many... reviewing the photos now... Lucky 13 people showed up! (20)
5:25 pm - Two more. Remember,
live-ish photos are available
. (22)
5:30 pm - 14 more. Whew. (36)
5:37 pm - HOLY CATS. There was an endless-seeming stream of them.
5:39 pm - Another stream of them...
5:42 pm - Batman, Superman and the Queen of Hearts.
5:45 pm - A solo and somewhat nervous girl.
5:50 pm - more and more...
5:56 pm - more and more and more and more...
5:58 pm - I can't even tell how many by looking at the photos. I know there have been more than 140 though. We got through the first bowl and then some.
6:08 pm - Eric fed Inkwell and is putting the pizza in the oven. Oh Take n Bake, how we love thee!
6:12 pm - A young men dressed as a policeman came up and I said, "I swear officer, I've just been giving candy to children!" He was... befuddled.
6:17 pm - Another kid recognized Eric as his teacher. Now they know which house to TP.
6:42 pm - Continual crowds... pizza is good, but I can get maybe one bite before the next crowd arrives.
6:55 pm - IT'S NOT EVEN SEVEN?!!?!???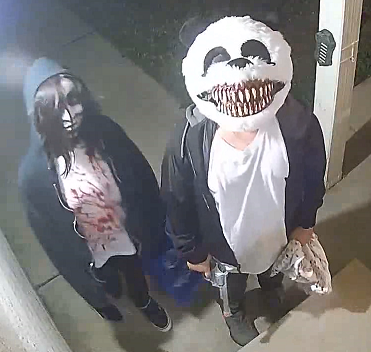 7:15 pm - It's a neverending stream of children of all ages, each one dressed up in a strange way, each with their own quirks. And some react REALLY funny when they see Eric (their teacher) at the door.
7:20 pm - Next year: Dog treats, bottled water... Maybe a bunch of cheap pillow cases to give to children with inadequate bags.
7:28 pm - Regular clumps. Enough that we can't really sit down and stop. Both Eric and I have each had two pieces of candy.
7:34 pm - Someone in the neighborhood is giving out cotton candy. Cotton candy. Seriously?!??
7:37 pm - We asked a young man what he was dressed as. He didn't hear us, I think, and looked at Eric and said, "Mister Gjovaag???" We both immediately questioned how he could be dressed as Mr. Gjovaag while wearing Dodgers fan gear. He was very confused.
7:42 pm - The security cam is trying to take a photo every five seconds, but it's not consistent.
7:47 pm - We've moved to asking "Who is this Mister Gjovaag you folks keep talking about? He must be really handsome and well-liked."
8:05 pm - Eric had a nosebleed. Good thing the crowds slowed down a bit.
8:14 pm - Starting to download videos from the cam. We'll see if I got anything really cool.
8:37 pm - It may be over for this year. It *IS* a school night. Eric says we should invite people over for 2020, which will be on a Saturday and thus be insane. I can still hear children in the night, but they haven't come up here yet.
8:46 pm - A few more stragglers. I'll stay up until about 9:30 before I turn off the lights. But the massive crowds are done now.
9:05 pm - Counted the candy bags. I estimate about 750 people, with a pretty large margin of error. I'm relatively sure we had more than 700, but I doubt we reached 800. Lights are still on, but I'm not expecting many more, if any. Inkwell is loose again and very put out that we locked him up. Videos are downloading. I need to figure out how to edit AVI files, I guess.
9:30 pm - Decorations down, lights out. I'll stay up a bit longer in case we have high school stragglers who don't get that no porch light = no candy, but I think this year is a wrap. And we have LOTS of candy left over.