Here are reviews of the
DCBS
comic books that I've gotten around to reading and reviewing, sorted by the original shipping date:
Apr 30th
Green Lantern: New Guardians Annual #2 - Um. Right. Next.
Batman Beyond Universe #9 - This all ties in Batman Beyond much more closely with the Justice League Beyond. And we even get to see Aqua-Lord. Awesome.
Batman '66 #10 - Mr. Freeze and Cleopatra. Fun issue. I kind of wish I had a personal cooler like Mr. Freeze was selling for summer. Seems like he could have made a lot of money off the devices legally, if he were sane.
Scribblenauts Unmasked #4 - First Aquaman gets flame-broiled, then he gets dissed, and then he kicks butt!
Serenity: Leaves on the Wind #4 - This continues to be a good series based on an excellent TV show... but I still wish I had a list of characters with clear references to when they showed up in the TV series so I could more easily follow the action.
Tales of Honor #2 - The artwork on this book is very stiff and doesn't really show much. It's more like an illustrated book than a comic book. Even the places where there are speech balloons seem like afterthoughts. I very much enjoy the original material, but this definitely could be better.
FCBD
FCBD: Hello Kitty and Friends - Er. Cute?
FCBD: Worlds of Aspen - I was kind of expecting to really dislike this... but the Zoohunters story was promising, if a little standard and the Damsels story also had its moments. I wouldn't turn it down if offered, but I'm not going to seek it out.
FCBD: Defend Comics - I didn't know when I opened this that I'd be getting a history lesson AND some Sergio Aragones strips. Altogether, a decent little package.
FCBD: Overstreet Comic Book Martketplace - Not a comic, just about comics. A decent set of articles and such, but kind of a drag to get through during my casual reading time I've set aside for FCBD books.
FCBD: Project Black Sky - Halfway through this I was considering buying the book. It may make the pull list eventually.
FCBD: Armor Hunters Special - Well, this didn't make a lot of sense until I read the text piece, then it made a tiny bit of sense. Not my cuppa, but interesting just the same.
FCBD: CBLDF presents Raising a Reader - Lots of good advice in here, but a little too repetitive and a little too... um... academic. I mean, it's good information, it's just so clinical I'm not sure parents will understand it.
---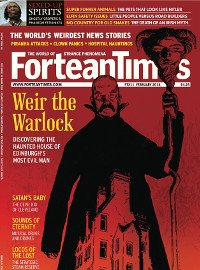 Fortean Times
#311 (March 2014). I had never heard of Thomas Weir, to the best of my knowledge, before reading this issue. The summary of his story: born in 1599, considered a wonderful man, loved by those who knew him, solid Christian except for one horrible accusation of bestiality that was dismissed because his reputation was so solid. Then, at the age of 70, the guy confesses to all sorts of crimes... including bestiality and incest. His sister, who had come to live with him, verified the claims. Both were put to death. And, because this was in Edinburgh, his haunted house remained standing with no one willing to live in it for many years. In fact, the point of the article is that the author went to find the location of the house and... well, let's just say the rumors of its demise were exaggerated.
Another main article talks about the use of droning sounds in music and religion, and how drone-tone can alter perceptions and, perhaps, even make people "high". A companion article visits the workshop of Garry Kvistad, founder of
Woodstock Chimes
and explores the harmonics of wind chimes. Next up is an article on the perverted ghosts of Palermo, Sicily. You want details? Get the magazine and read the article.
Strangedays starts with dead bats, falling raptors and a river of molten caramel. It continues with disturbing eye stories, pets that resemble famous people and dogs getting trapped in rabbit holes. Icelandic elves are discussed, along with terrifying clowns and vicious fish. Alien Zoo has bits on tapirs and white ligers (not a typo). Ghostwatch is about people who are dying seeing apparitions, as reported by people who are attending to the dying.
Archaeology has a mummified cat, more evidence of where dogs were first domesticated, the sex life of ancient bugs and diet discoveries. Classical Corner covers Nero while Konspiracy Korner tackles another wrinkle in the tale of 9/11. UFO Files has a new Mothman theory and a couple of truly perplexing cases, while Blasts for the Past has a 1888 newspaper story of a devil baby born in Ohio.
Random Dictionary is about Fortean machines and the scam artists who (sometimes successfully) promote them. The First Forteans starts a look at the life of Eric Frank Russell, who helped introduce Fort's works to the UK. The Forum includes a bit about someone testing the notion that snakes cannot survive in Ireland (er, yeah, they can) and another about a reserve of steam engines, held ready to serve England at need.
The reviews were solid, letters were strange, and the "it happened to me" stories slightly heartbreaking. Phnomenomix continued the story of W.B. Yeats. All-in-all, yet another good issue of the best magazine out there.
---