This is the recipe as it was printed in the Daily Sun News of Sunnyside, WA on Wednesday, Dec. 28, 2011. It was printed at the end of a column about responses that reporters get, written in response to a request for the recipe. The column was not published on the website of the newspaper.


---
Lynnae's Orange Biscuits
1/2 cup butter or margarine
1-1/2 cup orange juice
1-1/2 cup sugar
2 teaspoons grated orange peel
4 cups flour
6 teaspoons baking powder
1 scant teaspoon salt
7 to 8 generous tablespoons shortening
1 1/2 cups milk
Combine butter, orange juice, sugar and orange peel in saucepan. Cook and stir overmedium heat until sugar is dissolved. Pour into 9x13 baking pan.
Combine flour, baking powder and salt; cut in shortening until finely incorporated. Add milk, stir until dough follows fork. Knead on lightly floured board until dough holds together, being careful not to over handle the dough, roll about 1/4 inch thick. Brush with soft butter, sprinkle with sugar and cinnamon. Roll as for jelly roll. Cut into slices, place cut side down in orange juice/sugar mixture in pan. Bake at 450 degrees for 20 to 25 minutes or until golden brown on top.
---
For the record, I haven't received any response to that column yet. We'll have to see if it happens. However, I did go ahead and make the recipe today for my brunch. Since Eric isn't here at the moment, I halved the recipe. It came out excellent. It feels a little like blasphemy, because mom usually made more than one batch and halving it ... wow.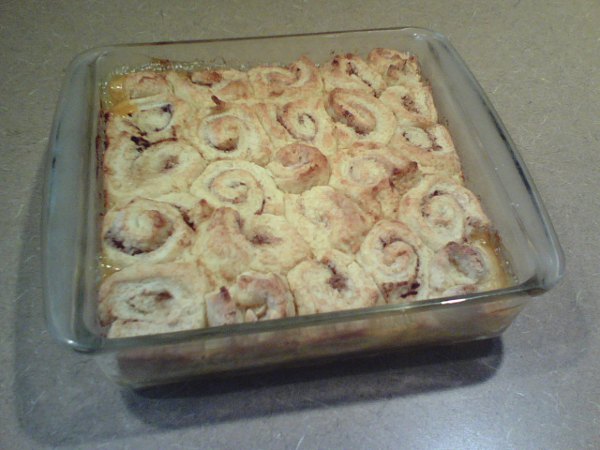 Orange Biscuits are best served fresh out of the oven with a side of eggs and sausage. They are best on Christmas Day, served after presents have been opened. To serve, scoop up one or more of the biscuits with a large spoon and turn them over onto a plate, so the orange sauce is on top. Use the spoon to capture more orange sauce in the bottom of the pan and dribble it over the biscuits.
In the unlikely event you have leftovers, store them covered in the fridge until somebody eats them. They can be heated for about a minute in a microwave oven to get back much of their glory.
See
this post
for the story on how my mother came up with the recipe. If you make these, PLEASE let me know. I want to hear what you think. For me and my family it is not only an excellent breakfast, it's a cherished tradition. But I love to hear other opinions.